In the earlier days, photographers always needed to carry their best work in form of a photo shot portfolio wherever they used to head out. Moving a decade forward things have changed dramatically and the photographs form portfolios in a digital form today. Nevertheless, the portfolio still rules the hood. There are tons and tons of advantages while showing your best work on the internet. This is because it allows the people to go through your work without physically stepping out and for them liking your work 2 things needed the most. Stunning photographs are obviously the primary need while on the other hand, a website with an intuitive theme is what will help you to win over. And If you are using WordPress to build your portfolio then you must check these Free photography WordPress Themes which will make your work far easier.
List of Free Photography WordPress Themes
Along with the help of the productive theme by WordPress \"Paragraph\" allows an individual to avail a bigger header image (full screen)? This usually does not comes around in the liberate section of themes by WordPress. Hence definitely worth a shot in case you are looking for a medium that captures both eye and attention from the very beginning. Top space is for social media buttons and the surprising thing is each looks like crafted exclusively for this theme. So this eliminates the worry about getting a third party plugin for enabling social media buttons. Apart from this, the logo which is an essential element of the site is located at the top head of the homepage. Therefore making it easier to brand the site and furnish the people with a notion of what website they really are at? And considering this first is the reason that it is one best Free photography WordPress Themes.
One of the best themes which successfully furnishes the user with an incredible way of arranging all the shots on the website in less than a minute. The pattern revolves around the header which consists of merged navigation of category and menu space. The theme allows the user to get going with an option to upload an image for the header with a higher resolution which is used by major promotion firms these days. A feature to enable text overlaying. Some photographers may feel uploading a logo along with the tag line in the area but highly impactful for CTAs.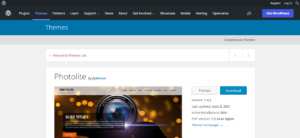 A theme for the firms that offer photography services and solutions on a site. It has some incredible patterns for showcasing the checklist of services along with descriptions and pictures. The header is so designed that it can handle massive banners and high-resolution photos which can be deployed with over-lay text and buttons as and when required. It is totally worth it acknowledging the CTA buttons which can be personalized. Ideal for landing pages which works just fine. Nevertheless, a photographer can also make changes in order to navigate users to other blogs, information, and product pages relevant to the services provided.
The Fotographie theme from WordPress is a total package. Package in the sense it has a rich visual theme which is free to use for photographers whether a rookie or a pro. A theme with contemporary features, simple design and tons of features to look into. The catch here is to make day to day actions for a photographer as easy as possible. As it is something that a photographer would love to operate. A photographer is someone who takes the best shots but at the same time would love to invest minimum time at the website for uploading his work. A huge header image is what the site would start off with as that leads to numerous banner pics for better navigation options in which a logo could be included as well. And the best part is that it hardly takes any time to set up. A space for the content to describe the work with an option to tweak the colors that enrich the browsing experience of the visitors.
Infinite Photography is a theme from WordPress which has a darker ambiance for a more up to date appearance but the major reason for it being the best is the feature-rich photo setup. A much more interactive feeling as it has a camera icon to click for images. This will definitely leave you carefree when dealing with an audience who is having slight or no knowledge of surfing the web. Keeping in mind each photo ever uploaded it has a grid-based pattern which allows the perfect setup which makes it look more reasonable and professional. Space is available for the logo on top which is fitted with a compact search bar for navigating the site and content on the site.
The Fotography is a free website theme from WordPress which is considered as one of the best in the list. As it is a free theme but has the appearance and attributes like a premium theme. An elegant slider for sharing the remarkable shots a photographer just captured. The beautiful slider navigates the users into the portfolio section wherein all the snaps are available. Along with that, it has a feature of adding not just thumbnails for the images but a little description about each snaps taken. Being highly receptive the clients on the site can navigate on the site with handheld and compact devices. Accessing a photo on a smaller device like a smartphone is nothing to be worried about on the site and very convenient to go through the extensive range of pictures and other items a site may have to offer to its users. A services Tab for the users which will guide the visitors what sort of photography and shots are available.
Yet another alternative for the users who feel like configuring the scenario wherein all the pictures is stuffed with a humongous snap. Not actually a lightweight one but something which is free to use it is a whole lot more than just a theme. The header comes along a merged menu so that a visitor whenever moves align the menu and click it, all the options are there available to choose from. On top of that, the header image being a slider which rotates to showcase an entire cluster of the high resolution of images which can be helpful in persuading the buyers to go ahead and make the purchase.
When it comes to oneness the Portfolio Gallery theme from WordPress outruns the various themes in the list. It comes with a navigation menu that lies on the top left of the site. Along with which the elegant portfolio with mixed thumbnails for a contemporary and more executive ambiance. The other important aspect of the theme is beyond the navigation menu which is nothing but a background that could easily reflect the entire atmosphere of the site.
It is recommended to go for the Full Frame WordPress theme if you wish to create a site that provides a space for masses which may come across the services and products of your photography. The theme definitely has a professional appearance which provides the user to present their stunning pictures in a more executive manner while allowing people to see it and get in your touch if they ever need some of your photography services and products. The first thing a user may see is the header as it is obviously on top and above everything else on the site backed with the productive social media buttons, a space for both logo and an intuitive search bar. Just to help those who are in need of a content which is relevant to the highly useful and quality content that your site may feature.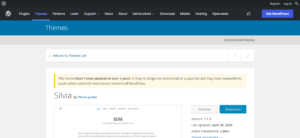 More of a simplistic theme, Silvia furnishes its user to get along an elegant interface and a handful of items for a portfolio which is so arranged in an executive manner which is so beautiful. This will eventually result in the rise of the clicks that the site will get. To add more to it which makes it a considerable option for a website theme is that the portfolio elements which are descriptions and titles which make them look even better.
It is also one of the best and free photography WordPress themes, it makes one of a kind approach. It could be taken into consideration for general photography image library or a search engine such as Shutterstock. The legitimate pattern displays something one would normally pay a price for. With a highly receptive pattern the today elements and the graphics and typography that may engage the audience. The portfolio section comes along a filter for proper navigation and one just needs to do is upload the images and see it all being arranged automatically in a grid-based format.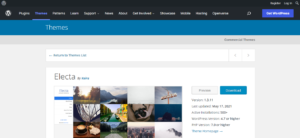 The Electa theme from WordPress is simply more than just a simple theme for making your photography site even better. A modern layout coupled with a minimalistic UI for simple browsing on the site is what makes this theme different than other themes available in the market. Also, there is a grid-based pattern which allows the proper presentation of the pictures. It is something that will no doubt pull the attention of an eye that meets your content. Like another theme, this one too has an option for social media buttons which is ideal for the marketing purpose. It is a highly receptive theme from WordPress for people who wish to see the site content on a smaller device i.e. mobile. Thread commenting is another feature that is available when you post some pictures and want the users to leave a reply for it.
Being Simple is the new trend on the hood when it comes to websites being created and preferred most as of now. And we all know why. It functions smoothly with the Flash and Snapshot drags the theme to a far extent with a design that reduces the distraction of the users. There is a handful of things which is included in the theme which is the Unique Preferring Perceptive of Snapshot. A very simple slider which allows the user to get in and start uploading the pictures. While it also allows the creator of the site to go through the uploaded content according to date and time which never fails to display the comments it got.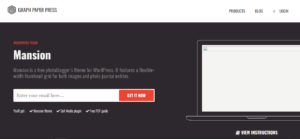 It could be derived from its name, it's a free WordPress theme for a photography site. It is more of ignored one these days but being old it still has got its edge. Being released nearly half a decade it still packs along the best features that may be ideal for a photography site. A space for a logo, search bar and a grid-based option to display all the clicked pictured in a much-organized manner. It has a got a whole lot of font styles to choose from along with a search bar which is quite helpful to most visitors of the site.
Looking for a mind-blowing theme which suits the purpose of catering to a photography site. Snaps is someone that you should probably give a look as it is a minimal, and a theme from today\'s era. No Huss and no fuss. More of a theme that is set up in the least time and could be used by photographers when they feel they have something worthwhile to show to their clients. Perfect typography and a wide range of personalization options is something that helps the Snaps theme to stand apart from the theme. A theme is so rich on features that it simply takes over most themes that are nothing more than a mess in name of advanced features. As we all are aware that a photographer needs to invest a larger chunk of his time on capturing breathtaking shots and not configuring some messy website.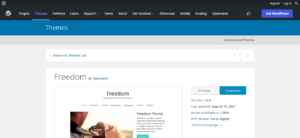 Along with the various theme options mentioned above, Freedom will allow your photography to shine with the least lags or site crash possibilities. As it has a few features which make it compact, quick and quite extravagant. It is a minimal theme designed for showcasing the images with the least hassles. And to be honest, that simple strategy has played its part. It is a theme designed exclusively for photo blogging with bigger thumbnails right on the homepage. Therefore making it a more considerable option for those who wish to show the world what they have captured in their camera.
Suggested:
Best WordPress Plugins for Photography.
Conclusion
Above mentioned are some of the most ideal themes for photography sites. You can choose either one of them. As acknowledged above they are one of the most legit themes available from the WordPress crafted exclusively for photography purpose.