Are you a Photographer or a graphic designer and looking for some easy ways to make money online? Then there is the simple solution, of selling your images online.
And In this post, we are going to that how you can sell your images online and make money.
Has the thought ever crossed your mind that selling photos online can help you grab an extra dollar? Won't you be interested in knowing which websites allow selling stock photos?
About photography
Being a photographer one can conveniently make an extra dollar if you are all aware of some of the websites which can help you to sell the pictures you clicked. Photographers who are professional and have good photography skills are always in high demand for their expert photography more than one can know. Any individual working in an MNC or small medium enterprise which also includes marketers, publishers, and bloggers procures photos online every now and then. While the fact cannot be denied that the pictures clicked are being stolen because of the expert and productive tools that are available on the internet which can track the source from where the images were pulled.
Let us see the websites which stand out as the most ideal ones to sell your Images Online and have a great potential to earn while doing what you love:
1. Selling it on your own site
That is probably the best place to trade photos online.
The reasons are as follows:-
Set your very own price.

No need to pay a commission.

Ultimate control over how the photos will be displayed.

Follow your own terms and conditions.

Ultimate control.
Don't have a website? It is okay, not something difficult to get over with. Just go through the guide to create a website on WordPress. It will give you the required information you will need to create your own website for photography purposes. The greater chunk of the pro photographer's site is generated on WordPress itself. Once the website has been created only thing needed is the perfect way of displaying the clicked photos so nicely that it captures the eye of the visitors and persuades them to go ahead and make the purchase. It is strongly recommended to use top-notch plugins from WordPress just as Envira Gallery and generate wonderful galleries for the pictures. Great albums can be created while making use of Lightboxes in order to display the photos in a much more creative manner while allowing you to categorize the pictures in a way that is really heart-capturing for the people who come across the pictures. The Envira Gallery plugin from WordPress has an add-on of Woo Commerce that authorizes a photographer to sell photos conveniently. And we have also collected a list of WordPress themes for Photographers which you can use for free.
A name that no one can really refuse to know when it comes to online photography
It has ruled the online photo market for nearly one and half a decades while providing the most elite pictures online. Shutterstock has a total of more than 200 million videos, music, and images for people who want to go for free pictures which clearly indicates that they have the people who are ready to pay for pictures as well as a very strong customer base who use the free photos from Shutterstock.
The site has a great potential of making money with the clicked photos as well as an ideal site for people with crazy or minimum photography skills as the site proclaims to have paid hundreds and millions of dollars for the pictures uploaded and sold on the site.
Copyrights are something on Shutterstock which is seen up close so it is up to the photo owner to create his set of rules and or rights for the photos uploaded. While Shutterstock also furnishes the image owners with credit which is a great thing to safeguard ownership and market the brand.
One can also become a contributor to Shutterstock and be rewarded every time media content such as video or image is downloaded by one of their customers. As a contributor one can pull out 20% to 30% from the pictures. The Payouts are done on a monthly basis.
A conjoined subsidiary of Adobe also a marketplace for photos which is now known as Adobe Stock. Has had a majestic presence in the virtual space for a decade while also being among the first ones to get into the business of online photo selling. The royalty share as compared to another in the segment is higher than online shops. Those photos which are published to Fotolia become an inseparable part of Adobe which is also available in various Adobe web applications such as Illustrator, Adobe Photoshop, and many more web applications which were rolled over by Adobe hence making convenient purchases for the interested people.
The other interesting thing which makes Fotolia even better than others is the high commission rates which range between 20%-60%. Neither do they want you to upload the snaps only to Fotolia, a buyer is free to publish it in any marketplace in accordance with his comfort. So it clearly states that Adobe is having a higher potential to become the prime site wherein the buyers and sellers get together and create a stunning stock of photography.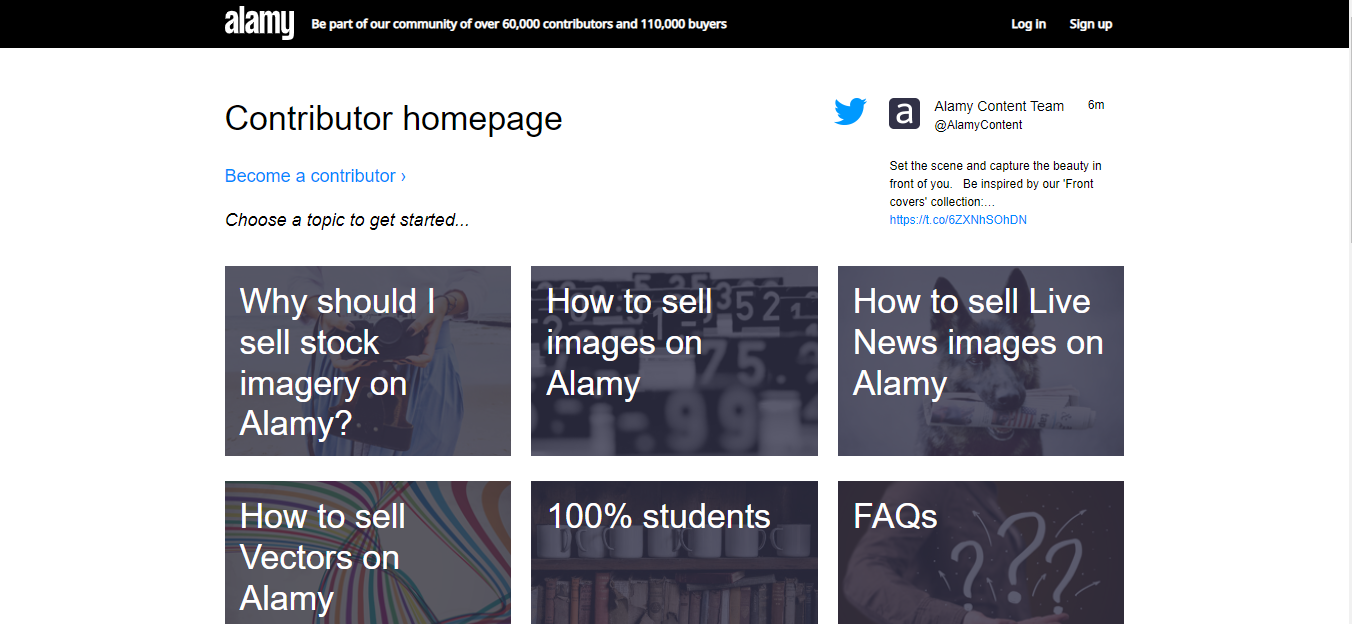 Alamy is another incredible medium to trade stock photos without any rules and regulations. However, the stats may clearly indicate that Alamy might not have a higher count of potential photo buyers in comparison with Adobe Stock and Shutterstock. Nevertheless, still, a better option when it comes to the revenue generation part. While uploading the pictures to Alamy is way easy as compared to uploading to other marketplaces for publishing the photos as the copyrights and licensing issues. To date, Alamy made 180 million while compensating an amount to the photographers for their contribution. Every photo uploaded has a 50% margin on it hence making it an ideal place to sell the photos and earn well enough.
A remarkable marketplace for out-of-the-box handicrafts. It, however, has a strong user base of over 30 million, and the best ways to trade the photos clicked with the help of its platform. The incredible thing about Etsy is that they have a substantially bigger audience while comparing to other photo stocking websites. It has a ready customer base that is probably going to be the buyer of the photos you upload. Also another plus point of Etsy as a platform to sell, it can also be used to sell prints that are custom-made. Just need to pack and ship it properly. The pricing for prints and photos can be set and also it gives you full authority on how the pictures could be displayed in order to gain more and more buyers.
Fotomoto is not like any marketplace for selling photos but it is a powerful widget that gets incorporated with your site to trade the photos to online marketplaces. It administers and takes the ultimate control of all the procedures for a seller after it is integrated into the specific website. It comes along with subscriptions that can be either monthly, quarterly, or annually coupled with the transaction charges in order to sell the photos without getting into hectic and lengthy procedures.
A legitimate marketplace for a photographer to sell and earn for the photos which are uploaded to Crestock. All one needs to configure is a free account on the site and get going after the photos have been uploaded to the site. After all, the assessment has been done once the approval has been obtained in order to include them in the Crestock portfolio. There is another option to include keywords and information for each photo uploaded hence it becomes very convenient for the Crestock editors to review the pictures and accept them as an ideal asset to be kept on the site which will tempt the visitors to become a buyer of the pictures.
An online marketplace for generating a portfolio of images and making a second and dependable source of income for the photographers. One of the legitimate marketplaces to sell photos on the internet. All one needs to do is create a free account on 500px and include images in the portfolio. There is also a couple of contests run by the site to give an opportunity to earn more by uploading the most remarkable photos clicked.
Snapped4u is much more than a bear market for the photographer who manages events like parties and weddings. It authorizes photographers to easily upload photos and forget about anything else. Getting a higher pay for each photo uploaded and shared by the users. Good prices for good pictures mean a higher commission received for the photographs purchased.
As an online marketplace for selling and providing prints to buyers. An option to sell the photos by configuring a template for the purpose of sharing the photos online. The only thing that is needed at PhotoShelter is to grab a vacant space on the platform to share the clicked photos. There are so many plans which come in handy for a monthly, quarterly, and annual fees with a whole lot of features one can take advantage of.
A more practical example is BlueMelon which has a very simple UI to share, upload and sell photographs for professional or rookie photographers. Fortified web space to get the images uploaded while they also provide a huge number of portfolios for the images in a bear market. To be precise the marketing is done from their end to demonstrate and process payments and manage transactions.
A premium royalty is given to the people who participate and contribute while giving some of the most breathtaking shots. BlueMelon caters to the need to combine the photos to the social media platform for greater exposure. An option for accepting payments via various methods is available too.
A legitimate spot is flowing with the photos, especially from the tourists who go from place to place in order to get breathtaking shots from incredible locations. Majority of the travel firms rely on it while taking the help of the photographs clicked in order to tempt the people who wish to wander the wildest locations. Ideal place for people who have captured incredible pictures from the best locations from around everywhere a traveler would wish to be At.
Conclusion
See? The photos you clicked for your passion and love for photography could possibly get you paid. No one ever thought that, did you? So if you have some photographs which you feel may be preferred by people and organizations for their line of business, then this is an ideal blog for you that entails information about the numerous sites which help photographers to sell their incredible shots.
We have tried to add as many sources as we can, like where you can sell your images online. And if you know a website where people can sell images online and earn some buck. We will happy to add that website as well.